What were my reasons for doing a 24 Day Challenge using Advocare products?
One of the biggest roadblocks to meeting our health and fitness goals is proper nutrition.  A big piece of this is proper supplementation.  Our bodies need the gaps in our nutrition filled by high quality supplementation.  We do not get everything we need through our food sources.  We would need to have our levels monitored constantly to make sure we were choosing the right foods to meet every daily requirement.  This is just not going to happen.  Our needs are even greater if we are exercising regularly.
I wanted to find a line of products that I could recommend to my clients and know they were getting some of the highest quality and safest products offered.  I also want a product line that is focused on supplementation and not replacement.  Who wants to be slugging down 3 meals a day in liquid form?  Proper nutrition needs to be based in consuming whole foods.
I started my challenge on December 2 and ended December 25.  The plan was easy to follow.  There was a booklet that laid out all 24 days with exactly when to take each of the supplements.  What I really liked was the fact that this was still based in consuming nearly everything through whole foods.  Basically this 24 day plan was exactly the what I had already been following for years.  The biggest difference I noticed once starting on this plan was the immediate increase in my energy levels and how constant they remained throughout the day.  The plan requires you to give up coffee and alcohol.  The alcohol was not a problem for me, but I was very concerned about the coffee.  I love my coffee and that caffeine kick.  Withdrawals were a concern for me.  The substitute for this was Spark.  My concerns were quickly put to rest as Spark has become a staple of my day ever since.  I was amazed at the non-jittery energy and the noticable mental focus I was getting after having a drink…and it is quite tasty!
Now to the results.  Incredible and very telling.  I was not looking for any major weight loss, as I was mostly concerned with adding muscle and increasing my definition.  I ended up dropping about 5 pounds and losing an inch off my waist and hips.  These might not sound like huge numbers, but remember, that was not my goal.  I think the best way to describe the changes are through pictures.  Click the following image to see the changes: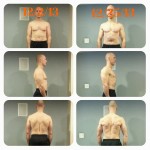 If you are interested in doing your own 24 Day Challenge, please contact us at info@hellbentfitness.com
You can also check out all of the Advocare products through our online store.  There are products to meet many different types of needs from weight management to in the Trim line to high level athletic and fitness in the Performance line.